About Robison Wildlife Solutions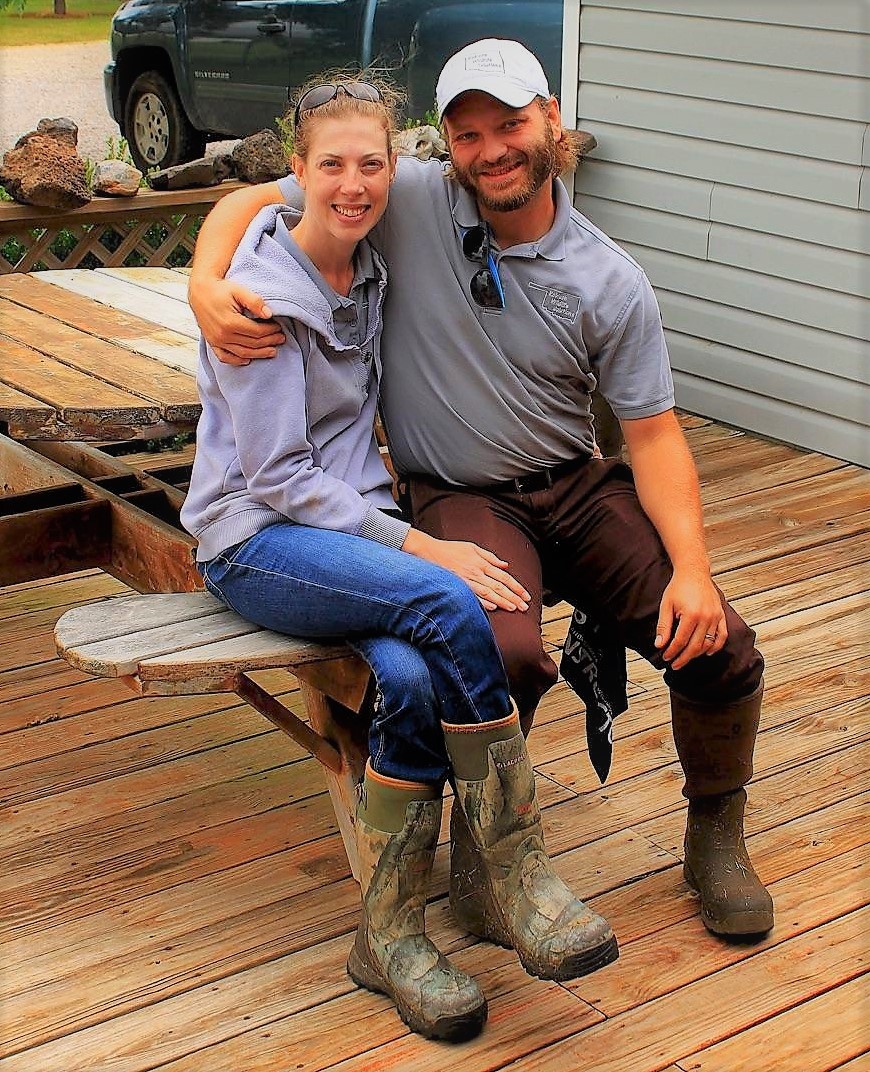 Amie Robison - "The Pond Lady"
Amie has a Biology Bachelor's from Southeastern Oklahoma State University and a Zoology Master's from Oklahoma State University. She has been involved in fisheries for almost 20 years, including six years as a Fisheries Technician for the Oklahoma Department of Wildlife Conservation. During her time with the department she worked on a state hatchery, caring for and maintaining earthen ponds that produced Florida largemouth bass, sunfish, and forage fish. This gave her a working knowledge of how to manage these delicate ecosystems.
Jarryd Robison - Nuisance Wildlife Control Officer, Land Management
Jarryd received his Biology Bachelor's from Oklahoma State University and Conservation Master's from Southeastern Oklahoma State University. Alongside his graduate advisor, Jarryd studied Oklahoma alligator populations at Red Slough Wildlife Management Area. Through his work, he developed a keen awareness of current trends in restoration ecology and land management. Jarryd is also a certified Nuisance Wildlife Control Officer and is permitted to trap and remove nuisance animals year-round.
How It all started...
In 2013, Robison Wildlife Solutions LLC was founded as a nuisance wildlife removal business in the town of Durant, OK near Lake Texoma. As one of the few professional trapping providers in the area, Robison Wildlife Solutions began specializing in control and removal of beavers, skunks, opossums, and raccoons.
Growth and move:
Despite the small size of the rural market in southeastern Oklahoma, business continued to grow, even securing a federal contract to provide beaver control on approximately 8,000 acres of public land. Through continued landowner contact, it became apparent that there was a need for pond and land management solutions for private landowners in rural and urban areas alike. After a series of fortunate incidences, the business landed in Newalla, OK, just 25 miles from downtown Oklahoma City, creating a central location from which to provide these services.
Since establishing the Newalla home base, business has has continued to grow at a rapid pace. The addition of a pond management division within Robison Wildlife Solutions has been the most prominent feature of this new growth. For businesses, landowners, and homeowners associations with problem ponds, we are proud to say that we can offer comprehensive, customized management strategies, implemented by Biologists with over 35 years of combined experience.
The Future:
Robison Pond & Wildlife Solutions continues to offer top quality nuisance wildlife trapping and removal, and now also provides strategies to attract wildlife for viewing or hunting opportunities. Native restoration and ecological enhancements can be achieved when you choose Robison Pond & Wildlife Solutions for your property management needs!